Outlook Refuses Sent Mail
If you aren't getting mail you believe you should be getting, Outlook may be refusing to accept mail from the sender. 
First, verify the person sending you the mail is sending it to the correct address, either
yourid@nmu.edu
or
yourid@mes.nmu.edu
if you are using an exchange account. 
If they are sending to the correct address and the mail from only one person is being refused it's most likely because the sender's email address has been added to the Junk E-Mail, Blocked Senders list. 
If so, you can fix the issue by following these steps to remove the sender from the Blocked Senders list.   
1. Click the
"Home"
tab and select
"Junk."
When the drop-down menu appears, click
"Junk E-mail Options."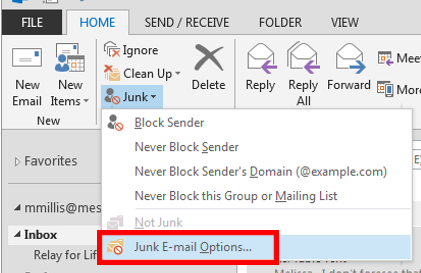 2. Click the
"Blocked Senders"
tab and search for the sender's email address. The addresses should be listed in alphabetical order. 
3. Select the address to highlight it and click the
"Remove"
button.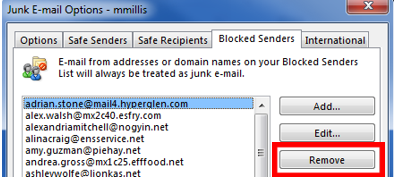 4. Click
"Apply"
and then
"Ok"
5. Have them send a message again and see if it goes through without problems.