Collapse and Expand Word Documents
After you set up a page
using outline tools
, you can collapse and expand parts of your Word document to fit your needs.  
1. With your Word document open and your outline set up, cursor over the heading and click the triange to expand or collapse it.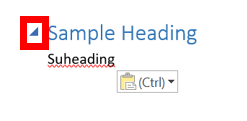 2. To collapse or expand alll headings, right click a heading and hover over
"Expand/Collapse."
Choose either
"Expand All Headings"
or
"Collapse All Headings"
 from the menu.