Windows 10 version 1511 and Kaspersky version 10.2.x not updating
Some people with older NMU issued ThinkPad computers using NMU software images created prior to the Fall 2017 image may find their version of Windows is stuck at version 1511. To verify this type 'winver' at the Windows start menu search to verify your Windows version.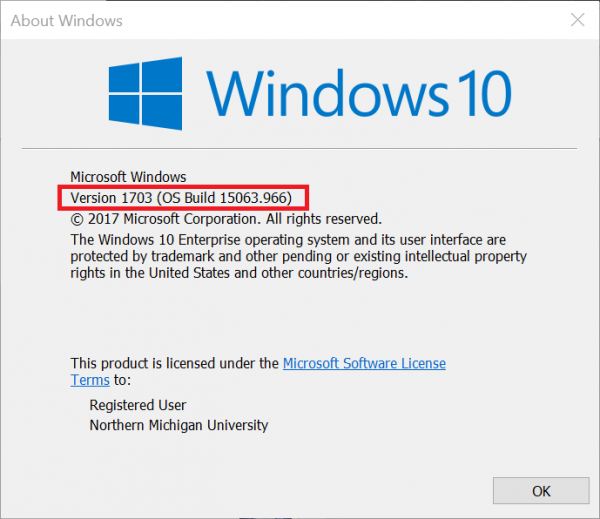 Version 1703 or newer should be displayed. As of August 2018, it should be at version 1803 or higher. If your computer is stuck at Windows version 1511 you will need to run and confirm installation of the 2017 Kaspersky Fix and then run Windows Updates to get your computer up to date.
This is a fairly lengthy process so a laptop should be plugged in and the user should have at least an hour to get through the majority of this process.
Running and confirming installation of the 2017 Kaspersky Fix
Download and run the Kaspersky Fix (click the 'update' link from https://it.nmu.edu/news-article/2017-kaspersky-fix). You might see the "Windows protected your PC" prompt when you run it.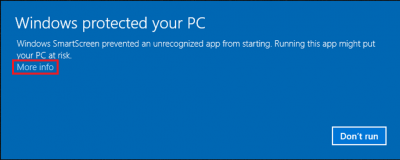 If so, click "More Info" and then click "Run anyway". Click OK or Yes.
At the "NMU Kaspersky 2017 Fix" windows click "OK".

A command prompt window will open and start installing the fix.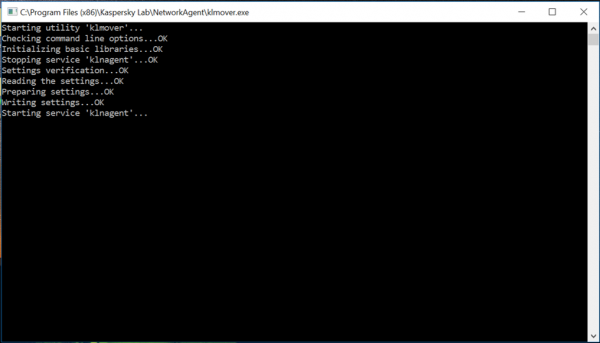 You will be prompted to close the window once the fix is installed. Close the window.
Open Kaspersky from the Windows system tray. You may need to use the 'up arrow' to see the 'Red K' Kaspersky icon.

Click "Updates available" text at the bottom of the window. (This might not show immediately after running the Kaserpsky fix, sometimes it takes 20 minutes or longer before the update appears)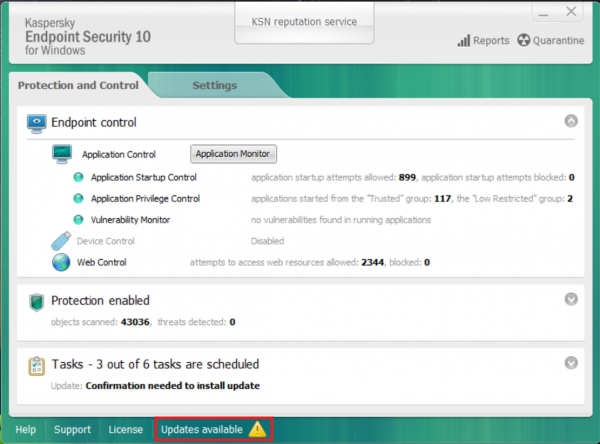 Check the "Updates available" checkbox and click "OK"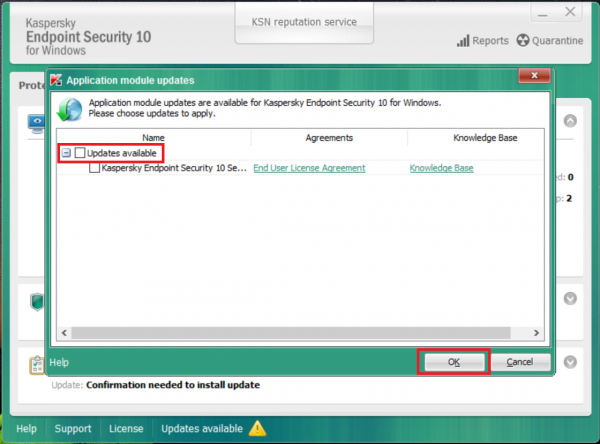 Click the "I agree" button.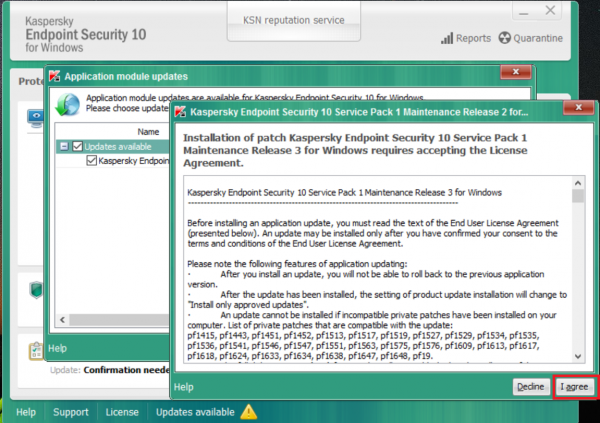 The Kaspersky update is now installing. You should be prompted that a restart is required to complete the installation (length of time for this varies). Once the computer is restarted Kaspersky should be at version 10.3 or version 11.
You can verify the version of Kaspersky by right clicking the 'Red K' Kaspersky icon in the Windows system tray and choosing "About" from the menu.
You should now be able to run the "Check for Updates" Windows command to update Windows. This update to version 1703 or newer will take at least an hour (possibly up to 3 depending on machine and internet connection) and the machine will restart several times. The percentages complete will reset several times as well so it's not a good indication of how long the installation will take. ie. "80% Dowloading", then "50% preparing to install", then "40% installing", and then "70% finishing installation" etc.
Other options to try if Windows still won't update past 1511 even though Kaspersky is at version 11 or above
Run the Lenovo System Update tool and install all Critical and Recommended updates. (If you don't have this, you can download from Lenovo; this will update all your hardware drivers and bios.)
Try Microsoft's Online Update assistant here: https://www.microsoft.com/en-us/software-download/windows10
Clear the Windows download cache. Follow the instructions here: https://blogs.technet.microsoft.com/mckittrick/windows-update-issues-clear-windows-update-cache/