Windows Update
NMU issued desktops and ThinkPad notebooks are configured with Automatic Updates, which means that each computer regularly communicates with a local Automatic Updates server. The server tells the computer what updates are available, and the computer tells you they are ready to be installed. Windows updates are available typically the second Tuesday of each month after 6:00 pm but critical updates might be available more often. It is best to routinely install the updates at a time that is convenient to you since the computer will install them automatically install the next time you restart or turn your computer off and on.
Never turn your computer off when it is installing updates and ensure that it is plugged in if the power is low. If the computer is shut down when installing updates your system will become corrupted. It is important to keep windows up to date to eliminate any software bugs and protect your computer from malicious software. To learn more reasons why you should update, click here. 

To manually check for and install updates, follow the steps below. Though the screenshots show Windows 10, the steps are similar for earlier versions of windows. 
1. Save and close all open work and windows.
2. In the Windows Start Menu type in and click the "Check for Updates" option in the new window.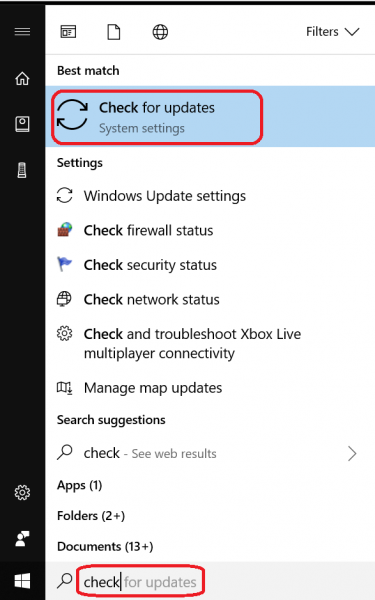 3. Click the "Check for Updates" button in the new window and wait while Windows searches Microsoft's update server for available updates.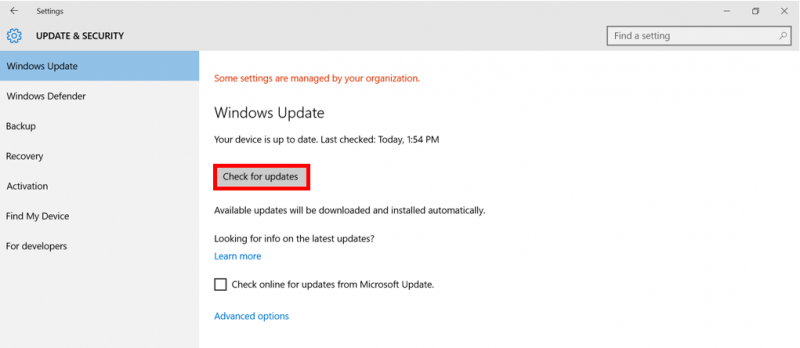 3. If any are available, they will automatically start to download.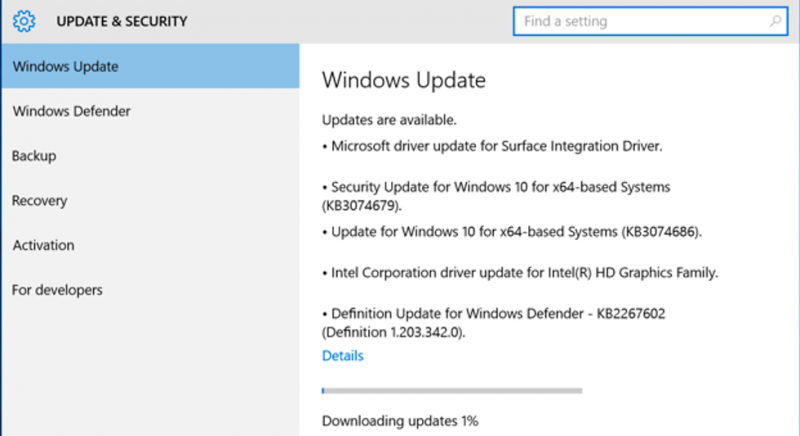 4. Once the updates are finished downloading you will be prompted to install them. You can either click "Install now" in the open "Update & Security" window, or you can click on the notification in the action center in the charms bar.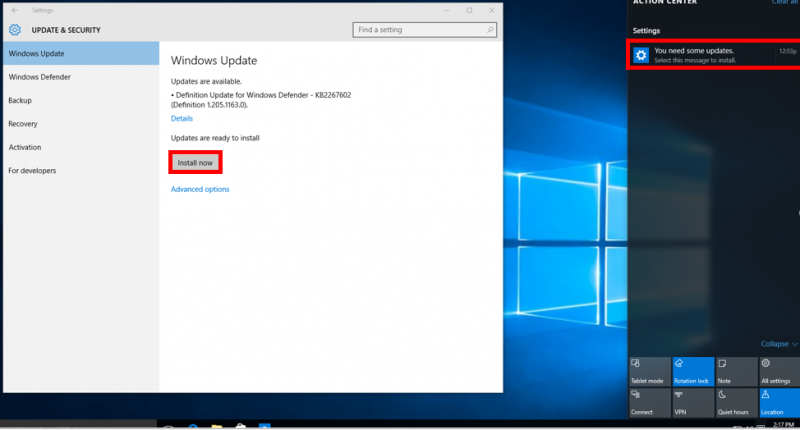 NOTE: Downloading and Installing are two different steps in their own. You download the updates from the Microsoft server, but will have to actually Install them to the computer in order to take advantage of the new features. The newly downloaded updates will not be fully installed to the computer until the computer has been restarted. We recommend restarting the computer as soon as the updates are installed so the installation doesn't happen at a time that is inconvenient for you such as the start of class or when attempting to take an online exam.

5. Once you select the reset option in the prompt, the computer will restart and install the updates. You will see the screen below as the computer displays the installation progress. Once completed, your computer will return you to the login screen. 
    


Windows Updates usually come on 'Patch Tuesday', the second Tuesday of the month. See https://technet.microsoft.com/en-us/security/bulletin for reviews of what's in the current month's updates.