Narration in Microsoft Powerpoint
You can narrate and record a PowerPoint as you'd like and present it at a later time exactly how you record it.
1. First, open your PowerPoint and click the
"Slide Show"
tab on the ribbon. Click the
"Record Slide Show"
and select where you'd like to start recording.    

2. Choose what you'd like to record with the check boxes (narrations, ink, laser pointers, animations, timings) and click
"Start Recording."  

3. You can pause your recording and view the tme using the
"Recording"
box in the upper left of the screen.     

4. To finish recording, right click the slide and select
"End Show."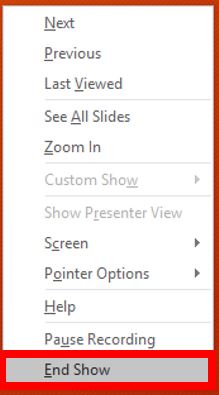 5. You may now play your presentation and see the recorded narrations.