Exporting an NMU.EDU or Exchange Account Mailbox Using Outlook
Exporting the contents of the NMU.EDU account mailbox (viewable at
Webmail
) or the Microsoft Exchange account mailbox (viewable using
OWA
) to an Outlook pst file is a way to save the mail messages, folders, contacts, tasks, and calendar items from your accounts. Once saved to an Outlook pst file, the mail messagesand other items could be imported into your
G Suite
account. You could also use the export to save your mailbox contents anytime you would like to create a backup copy of the mailbox for yourself.
These instructions assume you already have Outlook set up to access the yourID@nmu.edu account mailbox using the IMAP protocol or to access the yourID@mes.nmu.edu account mailbox.
1. Open Outlook and click the
"File"
tab in the upper left corner of the ribbon menu.       
2. Select the
"Open & Export"
option from the menu on the left, then select
"Import/Export."
3. Select
"Export to a file"
 then click
"Next."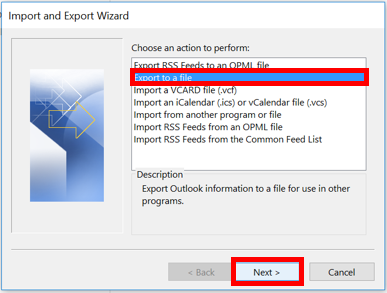 4. Click
"Outlook Data File (.pst)"
then select
"Next."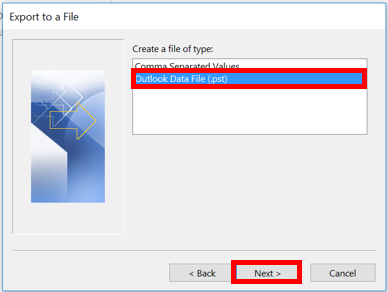 5. Select your mailbox folder, likely
"YOURID@mes.nmu.edu"
for the exchange account or
"YOURID@nmu.edu"
for IMAP. Ensure
"Include subfolders"
is checked, and click
"Next."
    
6. Click
"Browse...
" to choose a storage location and name for your .pst file, then click
"OK."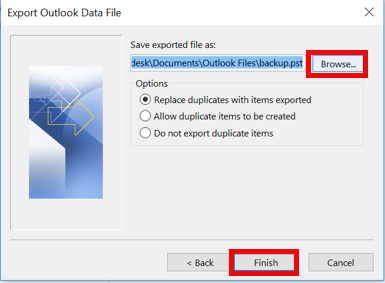 7. You will be prompted to password protect the file. We recommend you can bypass this step by clicking
"OK"
.
8. Click "Finish" and wait for the export to complete. When finished, the progress window will disappear.