Changing the Default Template in Word
You can change your Normal.dotm template, or default Word template in Windows (Word 2016), so that each time you open a new document it already has the settings (margins, font, etc.) you prefer. 
1. First you'll need to follow our
"Show Hidden Files and Folders"
instructions so you can access the Normal.dotm template file.
2. With Word open, click the
"File"
tab and select
"Open." 
3. You'll need to click the "C:" drive and browse to
users/yourID/appdata/roaming/microsoft/templates/Normal.dotm
. Click
"Open."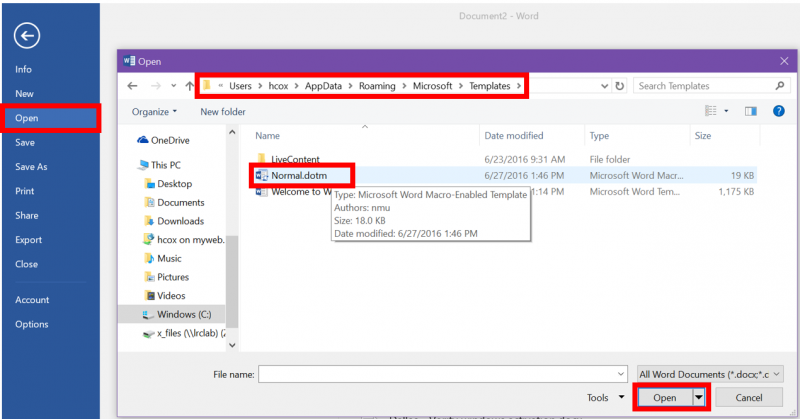 4. This will open what appears to be a blank Word document but is actually a template file. Set your preffered font, page margins, headers, tabs, etc. but leave the document blank. For example, you may prefer your documents to open with
MLA
,
APA
, or some other formatting as default. 
5. When you are finished, press the save button
 in the upper left and close the document. 
6. Open Word and confirm your template has been saved and opens as you wish. Reverse step one to re-hide files and folders.