Windows Desktop Icon Size and Arrangements
You can re-arrange, remove, and re-size your desktop icons to suit your preferences. This article will outline these processes.
1. Right click on an empty location on the desktop. A menu should appear.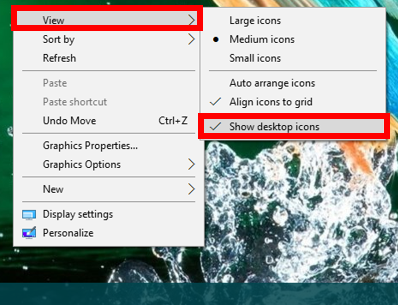 2. Hover over "View", without clicking, and then move your mouse over to the check next to "Show desktop icons". Select the check mark and the icons should dissapear. 
From this menu, you can also change the size of your icons by selecting from the available sizes. 
​          

3. Selecting or deselecting "Align icons to grid" will toggle on and off the fuction that snaps your icons to a grid. When off, you will be able to freely move icons into any arrangement.