Time Machine for Backing up your Mac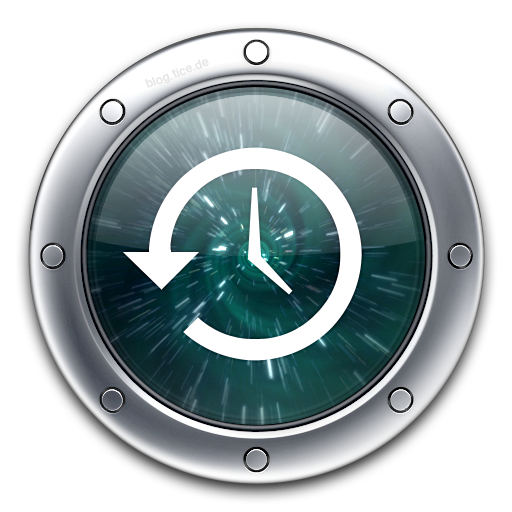 Time Machine is the built-in backup that works with your Mac and an external drive. Connect the drive, assign it to Time machine and start enjoying some peace of mind. Time Machine automatically backs up your entire Mac, including system files, accounts, preferences, music, photos, movies and documents. The great advantage of using Time Machine on a Mac is that it not only keeps a spare copy of every file, it remembers how your system looked on at any given day, so you can revisit your Mac as it appeared in the past. After you set it up, Time Machine backs up your copmuter every hour without any more effort on your part. 
Time Machine will only back up your computer when you are connected to your power adapter.
Depending on your Time Machine settings, it will keep an hourly back up for the past 24 hours, daily backups for the past month, or weekly backups for all prior months. ​​When space is low on your external hard drive, the oldest backups are deleted to free up space.
Set Up Time Machine 
Extra Configurations
Restore Files from Time Machine
Set Up Time Machine
You have to make sure that your external hard drive is formatted to Mac OS Extended. To do so, follow the instructions
here.

1. Plug your external hard drive into your computer
​
2. Open
"System Preferences"
by clicking on the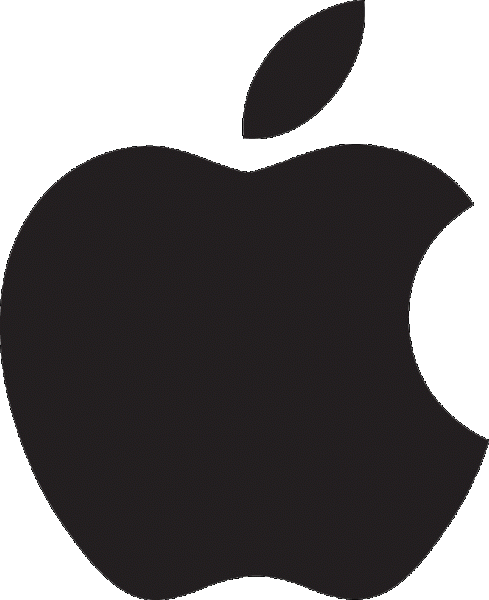 apple icon in the top left corner of your desktop.  
3. Click on
"Time Machine"
under the heading
"System."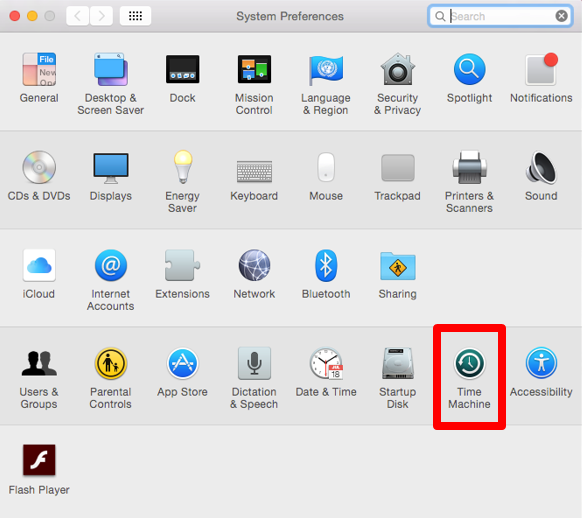 4. Press the
"Select  Disk"
button and select the drive to use from the list that appears.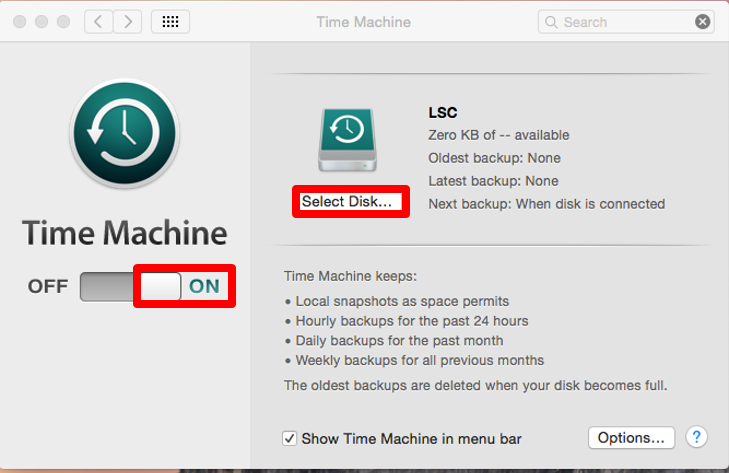 5. On the left hand side of the screen, slide the bar to "On" and make sure "Show Time Machine in menu bar" is checked.
 
Extra Configurations
Exclude Items from Backup
1. With Time Machine open, press the
"Options"
button in the bottom right corner.      
2. Press the
"+"
sign and select the folder, file, applications, or hard drive you want to be excluded. Click
"Exclude."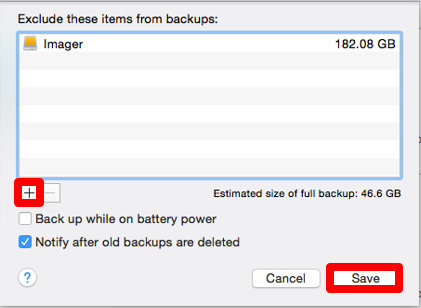 3. Click "Save."  

Note: You may add applications to the exclusions list because if you were to get your computer reimaged there would be conflicts with the applications that had been backed up. 
 
Add Another Hard Drive for Backups
1. With Time Machine open, click the "Select Backup Disk" button in the middle of the screen.
 
2. Select the new drive you would like to put your backups and select
"Use Disk."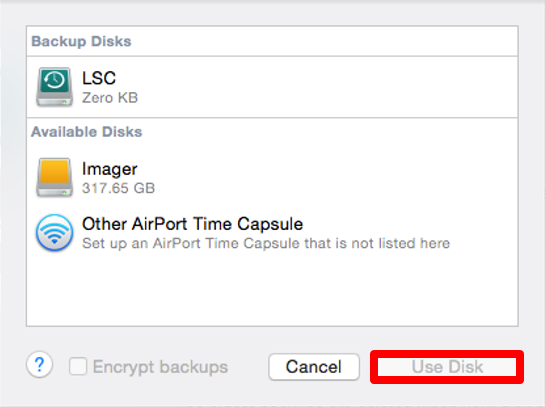 Force Backup
1. Click on the 

Time Machine icon in the menu bar and select
"Back Up Now"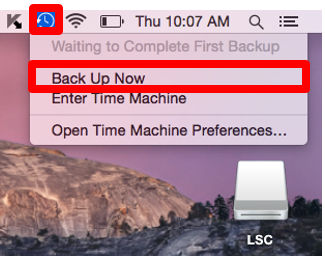 Restore Files from Time Machine
1. Click on

 Time Machine icon in the Menu bar and select
"Enter Time Machine."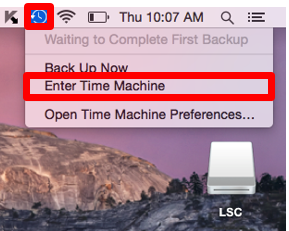 2. Click on the back up from the right hand side timeline.
 
3. Select the files or folders you wish to restore.
 
4. Press "Restore" in the bottom right corner.