Recommended G Suite Settings
Gmail Settings
The following settings are those most people change. A short description is included.
Go to Gmail > Mail Settings (Gear icon in the upper right) > Settings > General tab.
Undo Send: Enable Undo Send  - A nice feature allowing you a few seconds to undo sending a message if you hit the send button by mistake.
Conversation View: Conversation view off  - Turning off the default view of threaded conversations of email messages will make gmail work like previous email access.
Create contacts for auto-complete - An nice feature that builds up your contact list for those you've correspondeded with similar to Outlook.
Signature - You can create a signature for outgoing messages from scratch or copy and paste one from a previously sent message.
Vacation Responder - You would use this in place of the now disabled one previously available on other NMU email services).
Click the "Save Changes" button at the bottom of the page once you've made your changes.
Set up a Gmail 'viewing pane' (similar to an Outlook Preview pane)
Go to Gmail > Mail Settings (Gear icon in the upper right) > Settings > Labs tab.
Scroll down to "Preview Pane", enable it, and click the "Save Changes" button at the bottom of the page.
Once enabled, a new button will appear in the upper right of your inbox. To toggle between the old-fashioned gmail inbox and the preview pane, click the button on the left.
Compose Gmail messages in a floating window Holding down the "Shift" key while clicking the "Compose" option or the "pop-out arrow" in the top right corner of the compose window allows you to move and resize the window when composing new messages.
Export Outlook Distribution List to Google Contacts covers instructions on how to get mailing lists created in Outlook Contacts into Google contacts available to you in gmail.
Gmail Forwarding
Google Calendar Settings
Go to Google Calendar > Settings (Gear icon in the upper right) > Settings > General tab.
Events from Gmail: Uncheck Add automatically (Prevents Google from automatically adding calendar entries it finds in your email).
Working hours: (Set your working hours and allows you to show a warning if someone try schedule an event outside of your working hours).
Event dimming: Uncheck both options
Custom view: 5 Days (This way you can see the Mon-Fri work week as an option).
Location: 49855 (So you can get an accurate weather icon in the calendar view).
Show weather based on my location: ‪‪°F‬
Hide morning and night hours allows you to save space on your viewed calendar by 'shrinking' the times you don't really schedule anything, like say between 11pm and 7am.
Google Calendar Sharing
    Add someone else's Google calendar - Computer - Calendar Help
    Share your calendar with someone - Google Help
Using Google Groups
Forwarding Google Group Posts to your GMail Account - YouTube  - Covers forwarding all messages a Google group receives to your email account AND Setting up a filter to automatically move messages a gmail label.
How to use the 'Send mail as:" feature in gmail - YouTube - Covers setting up a receiving and sending mail using another email, gmail, or Google group email address with a unique signature for replies for each email address.
Canned messages are available in Gmail > Mail Settings (Gear icon in the upper right) > Settings > Labs and can be used to provide text for quick reponses to commonly received messages. 
Using Canned Messages to Create Multiple Email Signatures in Gmail
Use Chrome for G Suite Access
One recommendation is to set up the Chrome web browser so http://gmail.nmu.edu and http://calendar.google.com are the 2 home pages that open up in 2 tabs when you open Chrome associated with your NMU G Suite log in. This is a way to use Chrome similar to the way most people use Microsoft Outlook to switch between the email and calendar functions. You can also 'pull' a tab away from the browser to have it show up in its own window. This works well if you have 2 screens and want your email on one screen and your calendar on the other. You could also add more tabs for http://drive.google.com and http://groups.google.com. To set up the 2 home pages:
    1. Open the Chrome web browser.
    2. Open the first tab to http://gmail.nmu.edu.
    3. Open a new tab to http://calendar.google.com.
    4. Go to the "3 Dots" icon in the upper right of the browser window and choose "Settings".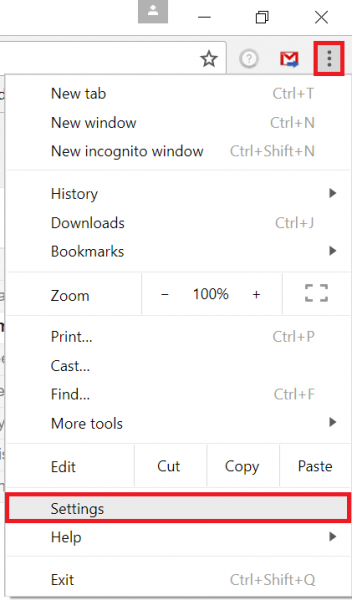 5. Scroll down to the "On startup" section and click the "Use current pages" link.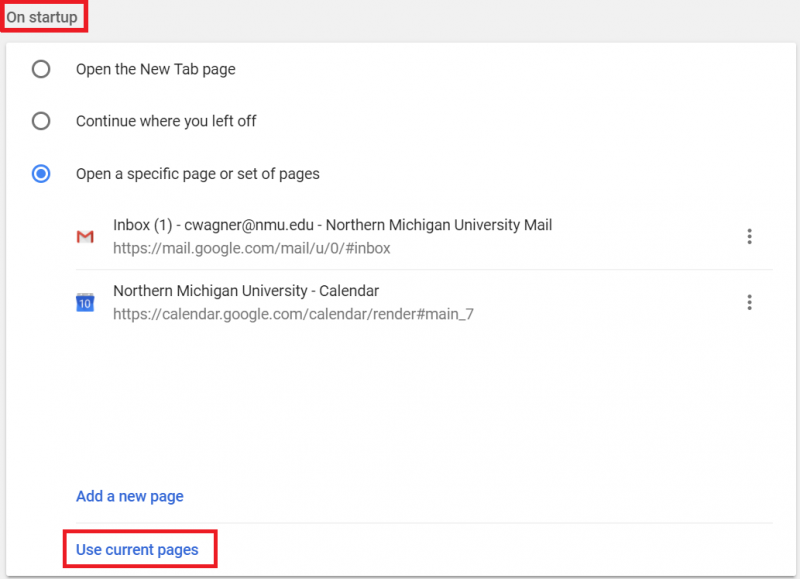 6. Close the "Settings" tab.
Setting Chrome/gmail as your default email client
Setting gmail as your default email client sets up your computer so if you click on an email address in a browser or other application Windows will open Chrome and gmail as the default mail application.
Please keep in mind Microsoft Windows uses Outlook as the default email client. The "Send To, Mail recipient" feature in Windows and the Microsoft Word mail merge to email feature will not work unless Outlook is setup to use your NMU G Suite gmail account via IMAP using the instructions referenced on this page or the instructions for Setting up Outlook to send mail using the NMU Mail Gateway. This is true even if you set up gmail as your default email client.