Lenovo ThinkPad Docking Stations
The new T460s ThinkPad does not have a VGA monitor port like some people may be using on the older x230i model ThinkPad. A Display Port Adapter to connect a VGA monitor or projector is available from Micro Repair. Be sure to request one at the time you pick up your computer in you need one.  If you currently have one of the older ThinkPad USB docks or a USB Dynadock either of those should work with the T460s.
With the new T460s ThinkPad, there are new docking stations available for purchase. Below is a complete list of docking stations and specifications for each. If you would like more information or would like to purchase a docking station, contact the HelpDesk in LRC 116 at (906) 227-2468 or stop by during office hours. Units are not available for immediate pickup, and take a few days to process. You can also take a look at each model at the HelpDesk in LRC 116.
170W ThinkPad Ultra Dock
Part# 40A20170US
$250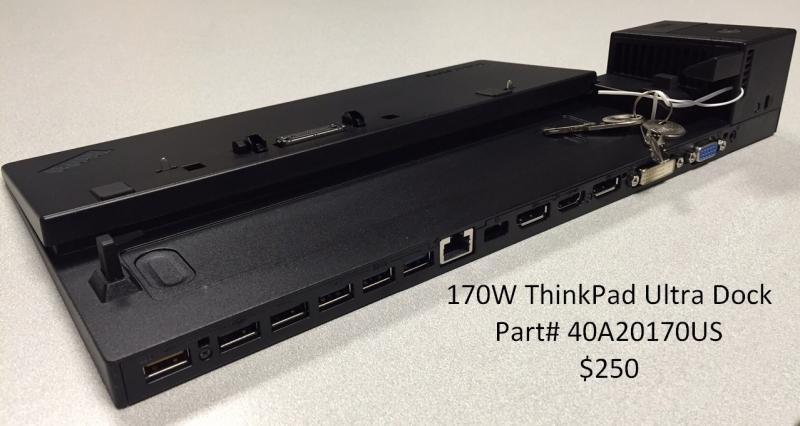 | | |
| --- | --- |
| Power | 170 watts |
| Keylock | Yes |
| Security Keys | 2 |
| USB 3.0 | 3 |
| USB 2.0 | 3 (1 USB Charging |
| RJ-45 GigLAN | 1 |
| VGA | 1 |
| DVI-D | 1 |
| DisplayPort | 2 |
| HDMI | 1 |
| 3.5mm audio(in, out) | 1 |
90W ThinkPad Ultra Dock
Part# 40A20090US
$225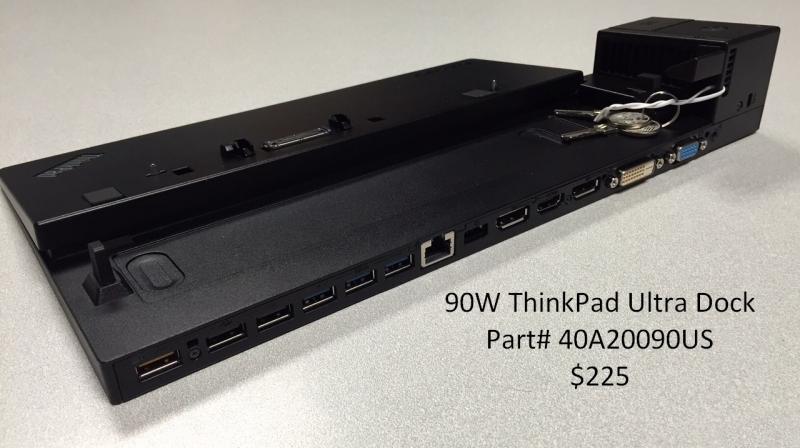 | | |
| --- | --- |
| Power | 90 watts |
| Keylock | Yes |
| Security Keys | 2 |
| USB 3.0 | 3 |
| USB 2.0 | 3 (1 USB Charging |
| RJ-45 GigLAN | 1 |
| VGA | 1 |
| DVI-D | 1 |
| DisplayPort | 2 |
| HDMI | 1 |
| 3.5mm audio(in, out) | 1 |
90W ThinkPad Pro Dock
Part# 40A10090US
$210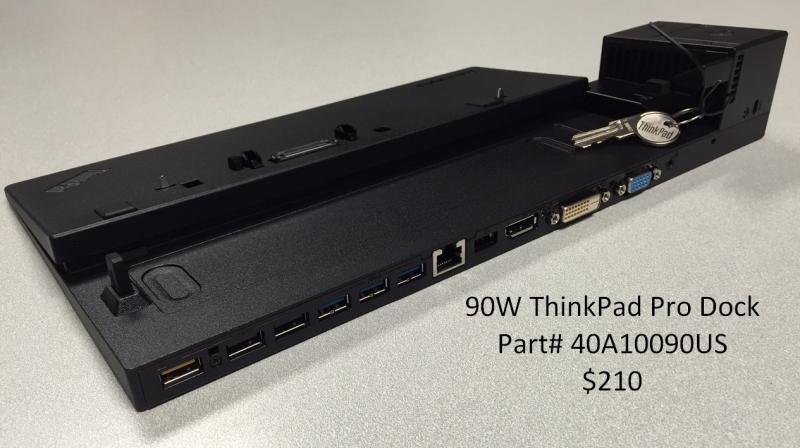 | | |
| --- | --- |
| Power | 90 watts |
| Keylock | Yes |
| Security Keys | 2 |
| USB 3.0 | 3 |
| USB 2.0 | 3 (1 USB Charging |
| RJ-45 GigLAN | 1 |
| VGA | 1 |
| DVI-D | 1 |
| DisplayPort | 1 |
| HDMI | N/A |
| 3.5mm audio(in, out) | 1 |
90W ThinkPad Basic Dock
Part# 40A00090US
$175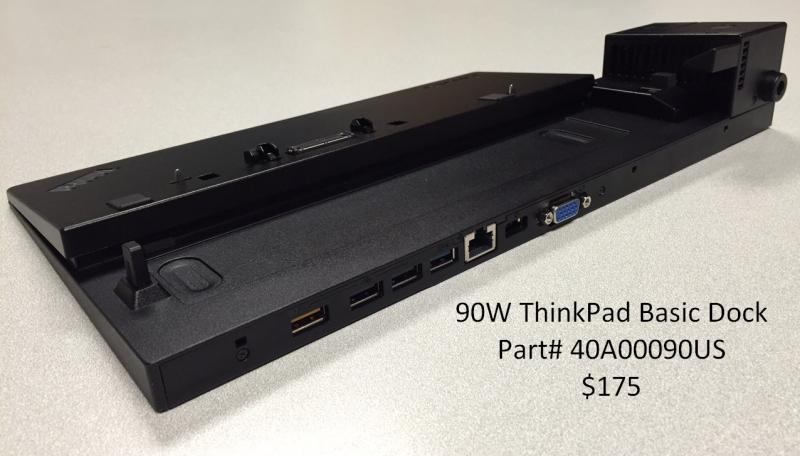 | | |
| --- | --- |
| Power | 90 watts |
| Keylock | No |
| Security Keys | N/A |
| USB 3.0 | 1 |
| USB 2.0 | 3 (1 USB Charging |
| RJ-45 GigLAN | 1 |
| VGA | 1 |
| DVI-D | N/A |
| DisplayPort | N/A |
| HDMI | N/A |
| 3.5mm audio(in, out) | N/A |