Using SquirrelMail Webmail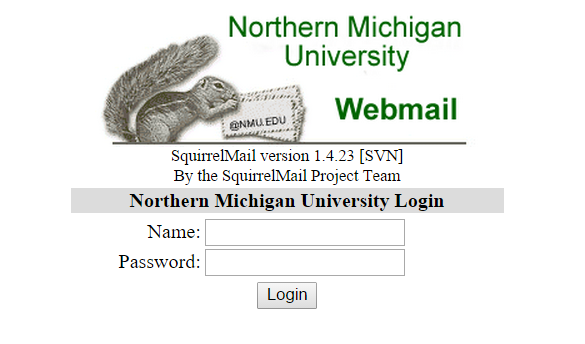 NMU students, staff, and faculty have email accounts through Northern. Your email address is your userID, and appears as yourid@nmu.edu, and the password is the password you created for NMU (The one you use for
mynmu
,
educat
, and
myUser
). This article explains how to use SquirrelMail to view your emails. Keep in mind that you can also use
Roundcube
or
Microsoft Outlook
to manage your NMU mailbox. 
Login and Layout
Sending Mail
Searching Mail
Managing and Adding Folders
Filtering Emails into Folders 
Spam Filter Options 
Squirrelmail Archive Feature
Login and Layout
  Open a web browser (Internet Explorer , Firefox , Google Chrome , or Safari  )and navigate to webmail.nmu.edu/sqmail. If you just go to webmail.nmu.edu, both Roundcube and Squirrelmail will show up; and you can log into Squirrelmail from that screen as well. There are also links to webmail on MyNMU and the NMU Campus Sites page. 
Enter your username and password in the login fields (upper and lower case make a difference!) , and click "Submit." 

Your username is also known as your NMU ID, which is a combination of letters from your first and last name.

For example, Joe Wildcat's username would be jwildcat and his email address is jwildcat@nmu.edu. 
You do not need to add the "@nmu.edu." If Joe Wildcat is logging in, he would just type "jwildcat" in the username field. 
Once logged in, you will be brought to the inbox. This is where you can see all your most recent emails. It should look similar to this: 
On the left, there is a list of all the default folders (with red font color), plus any you may have created (black). Next to the Inbox, there will be a number which represents the number of emails you have not read. 

​
 

To refresh all the folders, click on "Check mail" in the upper-left hand corner of the inbox.
To read an email, double click on the subject.

​
 

To sort your inbox, use the menu above your inbox to sort by sender, date, or subject by checking the box next to the criteria you would like to sort by. 
Use the "Move Selected To:" field and the "Move" button to move selected emails to a folder chosen from the drop-down menu.

Check the email you want to move
Using the drop down menu, select which folder you want to move your message to.
Press "Move"

When you are done using Squirrelmail, you can log out of your account by clicking "Sign Out" in the upper-right-hand-corner of the inbox. If you are using a computer that is not your personal computer (library computer, friend's laptop, etc) , it is VERY important that you sign out of Squirrelmail when you are done.

​
Sending Mail
To send a message, you can select "Compose" from the menu across the top of the page. 

Enter the recipient's email in the "To" field. You can enter multiple emails separated by commas. 
Enter the subject in the "Subject" field.
Select "Send" after typing your message; located on the bottom right or above the message box. 
You can select "Check Spelling" to run a spell check. 
Searching Mail
To search your mail, first select "Search" from the top menu.

Choose the folder to search from the first drop-down box, type what you wish to search for in the center box, and select to search the message's subject, body, sender, or several other options. 

Once you have finished entering the search options, select "Search".
This will bring up a list of items matching your search request. 
Managing and Adding Folders
​​To manage and add folders to the left menu, select "Folders" from the menu at the top of the webpage. 

Within this menu, you can enter a name and create a folder.

Selecting a subfolder from the drop-down list allows you to create the new folder within an existing folder.
Checking "Let this folder contain subfolders" will allow you to create folders within this folder. 

                 3. In this menu, you can also select a folder to rename or delete it.    
Filtering Messages into Folders
Message filters allow incoming emails to be sent to a folder instead of your inbox. This is useful when you want to decrease the amount of emails in your inbox. ​
From the Squirrel Mail main page, click on the "Options" link.
Click on "Message Filters." 
To create a new filter, click "New." 

​
 

The New Filter screen will look very similar to the previous screen, as seen here.

 

You have several options when it comes to filtering:

Match: Allows you to select where the filter will look for the keywords you will enter. Your choices are: 

From: Filter will look at who sent the message to you.
To: Filter will look at who the message is sent to. Generally, this will be your email address (yourid@nmu.edu).
Cc: Filter will check to see who is "carbon copied" in this message. Others that are Cc'ed will get an exact copy of this email. More information about Cc's can be found here. 
To or Cc: Filter will check the "To" and the "Cc" fields. 
Subject: Filter will look at the subject of the message (i.e. "Hi there how are you" ) for the keywords you will enter. 
Header: This is a slightly more advanced place to look. An email header contains information about where the message is sent, and the path the message took to get to you. Google has a more thorough explanation of headers if you'd like more information.

Contains: This is where you enter in the keywords or email addresses you'd like the filter to look for. For example, if you want all emails containing the subject "socks" to be automatically moved to the "clothes" folder, here is where you would type in "socks." 
Move to: What folder you would like the incoming message to be moved to. If you have that "clothes" folder that you want to put all of the "socks" emails into, this is where you would select that folder. Depending on how you have organized your Squirrelmail, your drop down menu may look slightly different from this example. 

Once you are satisfied with your filter requirements, click "Submit" and you are done! If you wish to create more filters, just click "New" again and go through the process again
Spam Filter Options
To change your spam filters, select "Options" from the top menu, and select "Spam Filters". 




In this menu, you can type in an address and select an option, such as blacklisting (blocking) or whitelisting the sender address entered, and then select "Add New Address." This will apply that action to the sender. 

Select a number from the drop-down menu to set a level of aggressivelness for spam filtering. Select "Save Settings" to save this change. 



 
​Squirrelmail Archive Feature
Squirrelmail has an Archive button that will save selected messages in a .ZIP file on your computer. The created .ZIP file will have the name of the folder the messages were in (Inbox.zip, Sent.zip, etc.).
To use it:
1. Check the checkbox(es) to the left of the messages you want to archive. Then click the
"Archive"
button on the lower right corner of the list.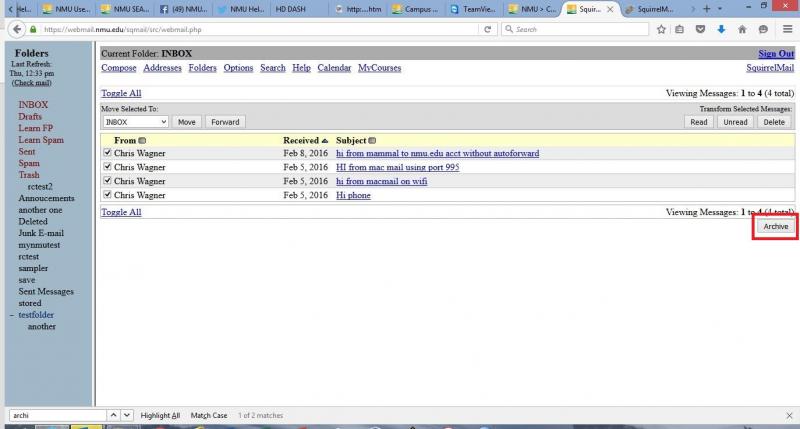 2. You will be prompted to open or save the file. We recommend you choose
"Save File"
so the file will be stored in your browser's download location with the name of the folder as the file name.  
​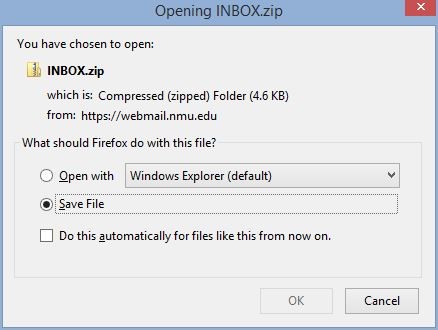 3. You can then open the file and open the messages to view them using an email client such as Microsoft Outlook.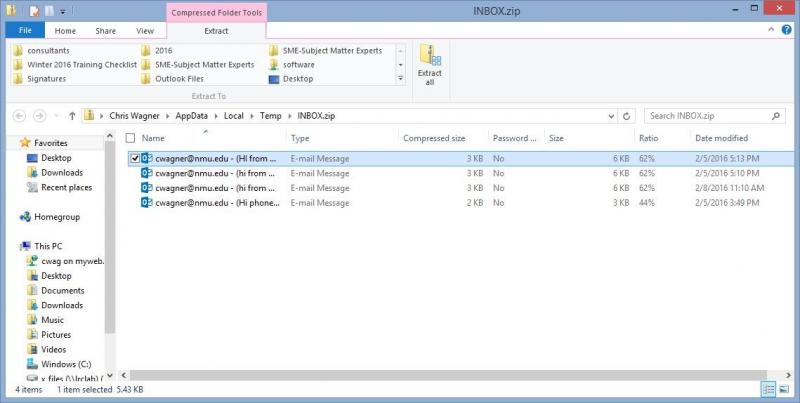 4. Optional: If you like you can modify some of the archive setting in SquirrelMail by going to
"Options", "Archive Settings".
Make your changes and click the
"Save"
button.