Setting up a Printer in OS X
Most USB printers that work with Mac OS X are plug and play, meaning the OS will automatically detect the printer and download necessary software. For other printers or network printers, you may have to complete the steps below. 
Please note that NMU network does not support wireless printers. 
For these instructions, you must now the printer's IP address or host name, printing protocol, and model number or printer software name. See the person who manages the printer or server for assistance.   
1. 
Update your software
 to ensure OS X has the latest information about your printer.      
2. Prepare your printer by using the instructions it came with to plug it in, install ink or toner, add paper, and turn it on.      
3. To add your printer to the list of available printers, choose the Apple menu and select
"System Preferences."
4. Select
"Printers & Scanners."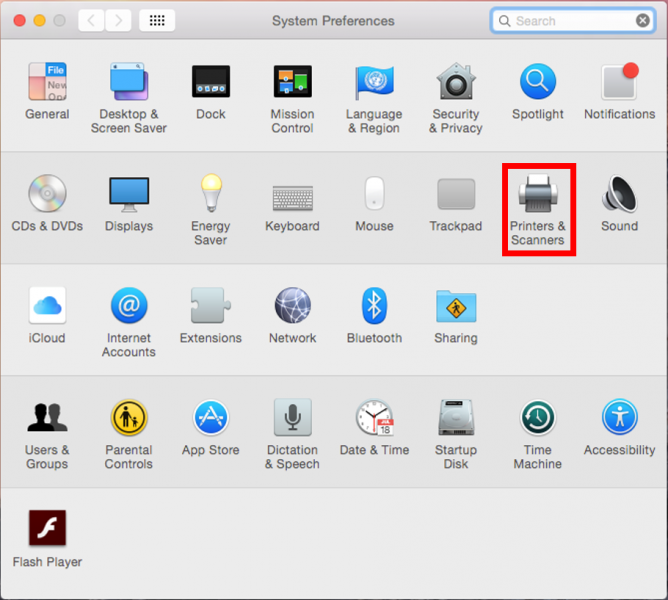 5. Click the
"+"
button below the printer list to add a printer.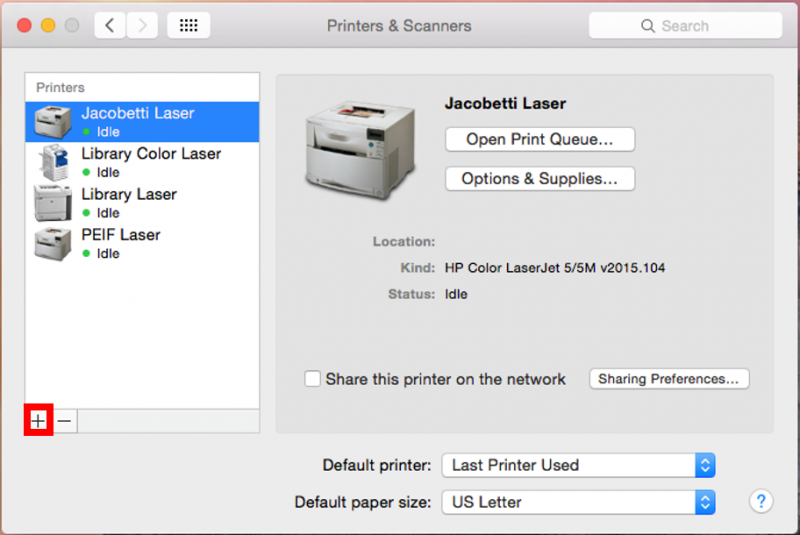 6. Enter the printer information using the following information as a guide before clicking the
"Add"
button.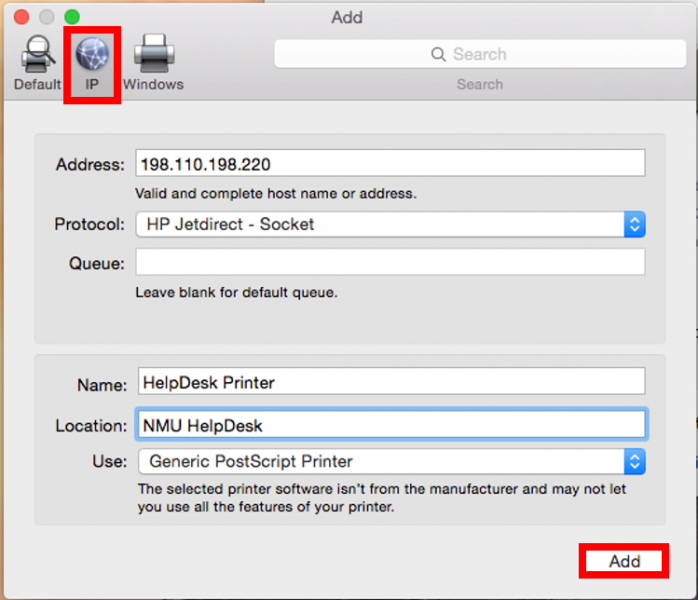 Address
Enter the printer's IP address (a number that looks like 192.168.20.11) or host name (for example, printer.example.com).
Protocol
Click the Protocol pop-up menu, then choose a printing protocol your printer supports:

HP Jetdirect – Socket: HP and many other printer manufacturers use this protocol.
Line Printer Daemon - LPD: Older printers and print servers may use this protocol.
Internet Printing Protocol - IPP: Modern printers and print servers use this protocol.

Queue
If your printer requires it, enter the queue name for your printer. If you don't know the queue name, try leaving it blank or see your network administrator.
Name
Enter a descriptive name for the printer (for example, Color Laser Printer), so you can identify it in the Printer pop-up menu.
Location
Enter the printer's location (for example, "outside my office"), so you can identify it in the Printer pop-up menu.
Use
If this pop-up menu doesn't display the appropriate software for the printer, choose Select Printer Software, then select your printer in the Printer Software list.
If that list doesn't include your printer, try downloading and installing the printer software/driver from the printer manufacturer website. You can also try choosing generic printer software from the menu.