MyNMU Tabs and Services
MyNMU is NMU's online portal that contains links and access to campus services depending on the type of user. MyNMU requires login with your NMU UserID and password. 
This page covers the most common tabs, though certain programs and departments may have others. 
Home
Student Services
Faculty Services
Employee Services
Admitted to NMU 
Home Tab
The home tab is the first page you see when you log into MyNMU. It contains the resources listed below and can be personalized.

Click the gear icon to change what blocks are inluded, click the plus and minus signs to expand or collapse boxes, and click the grey heading area of a box and drag to move it.

Quick Link to Educat
A quick link to the NMU Educat page which allows access to NMU's online course management system. It is personalized to the student or faculty member's courses enrolled in or teaching. It features quizzes, notes, forums, due dates, grades, assignment drop boxes, and many other course related topics and materials. 
 
Quick Link to Webmail
A quick link to the NMU web email page. You can choose which client this page opens to (RoundCube Mail or Squirrel Mail) by clicking your username in the upper right corner of the MyNMU home screen, selecting your preffered client, and selecting "Save." You can also change your time zone here.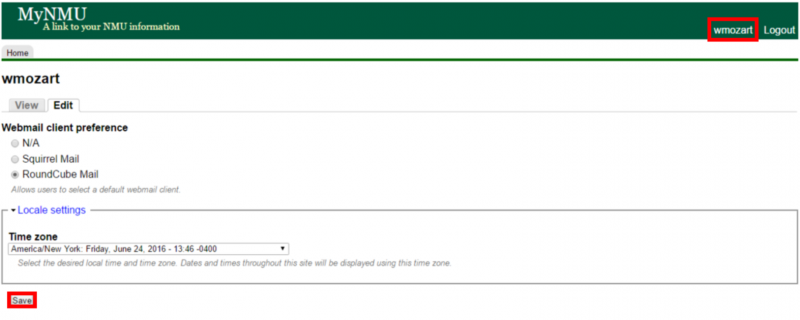 Contact Information
This section provides the contact information for the following frequently needed offices.
Admissions:
(906) 227-2650, Resource for newly admitted students
Financial Aid:
(906) 227-2327, Resource for financial aid and payment questions 
Housing and Residence Life:
(906) 227-2620, Resource for on-campus living information, housing applications, and housing assignments. 
NMU HelpDesk:
(906) 227-2468, Resource for computer support, email setup, network support, and more. 
Records and Registrar:
(906) 227-2258, Resource for degree and enrollment verification, name changes, and address changes.   
Health Video
This link opens the NMU Health Video in another page.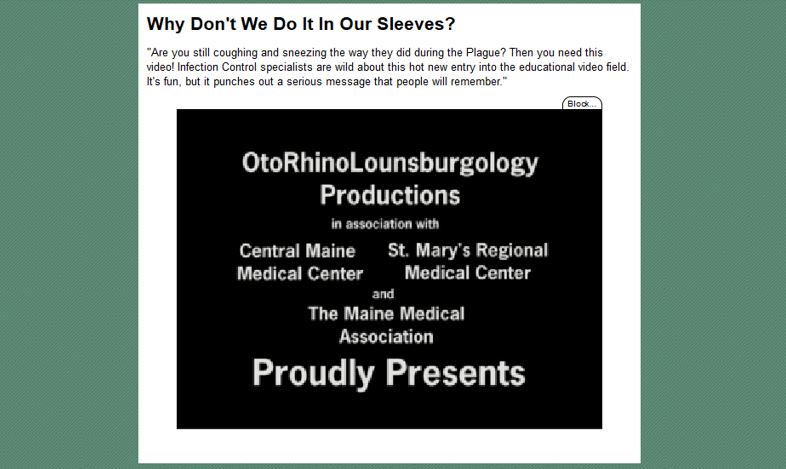 Welcome Section-Updates
This section provides update information, such as updates in policies, and links to more information on the it.nmu.edu pages. 
 
Student Services Tab
The Student Services Tab contians most of the services needed to manage your courses, payments, and other services and is dividied into the following sub-dividied sections.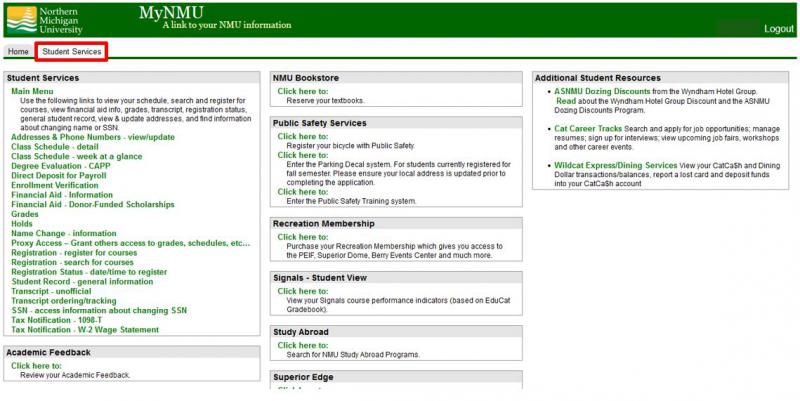 Student Services
Academic Feedback
eBill Payment System 
Math/English Placement 
NMU Bookstore
Public Safety Services
Recreation Membership
Signals - Student View
Study Abroad
Superior Edge
UltraTime
Additional Student Resources
Student Services
Main Menu: Contains all the information below
Academic & Career Planning Checklist:  Provides a checklist used to keep track of what you have completed in regards to school or career planning, including orientation and job shadowing. 
Addresses & Phone Numbers: Update address and phone information
Class Schedule - detail: Shows location, time, date, instructor name, and other detailed information about your registered courses
Class Schedule - Week at a Glance: Shows a weekly overview of courses with less detailed information
Degree Evaluation - CAPP: Allows you to view the level of completion of your degree, courses taken, and requirements fulfilled 
Direct Deposit for Payroll: Allows NMU employees to update their payment deposit information
Enrollment Verification: View and print proof of NMU enrollment and status
Financial Aid - Information: View financial aid status, award, accept awards, contact financial aid, and more
Financial Aid - Donor-Funded Scholarships: View the NMU Donor-Funded Scholarships Application site
Grades: View submitted grades by semester
Holds: View possible registration holds 
Name Change - information: Information on the policy for changing one's name
Proxy Access: Grant others access to your grades or other NMU Student Information
Registration - register for courses: Search for, add, drop, or otherwise handle course registration
Registration - search for courses: Search for, add, drop, or otherwise handle course registration
Registration Status - date/time to register: View your registration time for the upcoming registration period
Student Record - general information: Shows (by semester) status, student type, site, advisor, and more
Transcript - unofficial: View and print and unnofficial web version of your transcript
Transcript ordering/tracking: Order official transcripts through the National Student Clearinghouse
SSN - access information about changing SSN: View policies and procedures for changing your SSN
Tax Notification - 1098-T
Tax Notification - W-2 Wage Statement
Academic Feedback
Some students will see Academic Feedback given to them here. 
eBill Payment System
Links to the eBill Payment System where touition and other NMU bills and fees can be paid via Mastercard, Visa, Discover, or eCheck. Payment plans and payment history are also located here, and students can grant other people access to their eBill here as well. 
Math/English Placement
Links to you placement reccomendations for English and math courses (based on prior coursework, performance, or placement exams) and other related courses you are elligable to take. 
NMU Bookstore
Links to the Bookstore Texbook Reservations page, which uses your class schedule to reserve your books for you at the NMU campus bookstore. 
Public Safety Services
Includes links to bike registration, Parking Decal registration for campus parking passes (commuter and resident), and the Public Safety Training system. 
Recreation Membersip
Links to the page for purchasing the Recreation Membership pass for the semester or year, giving you access to the PEIF, Superior Dome, Berry Events Center, and more. 
Signals - Student View
Links to a page that indicates your estimated performance scores for participating courses and instructors. 
 
Study Abroad
Links to NMU study abroad information and your travel registration profile. 
Superior Edge
For students enrolled in the Superior Edge program, this list shows the completion status of the Superior Edge, log entries, individual edge completion, and information about Superior Edge. 
UltraTime
Enters the UltraTime Timekeeping System for viewing or logging NMU employee hours. UltraTime must be used on an NMU network (LTE/WiFi/VPN).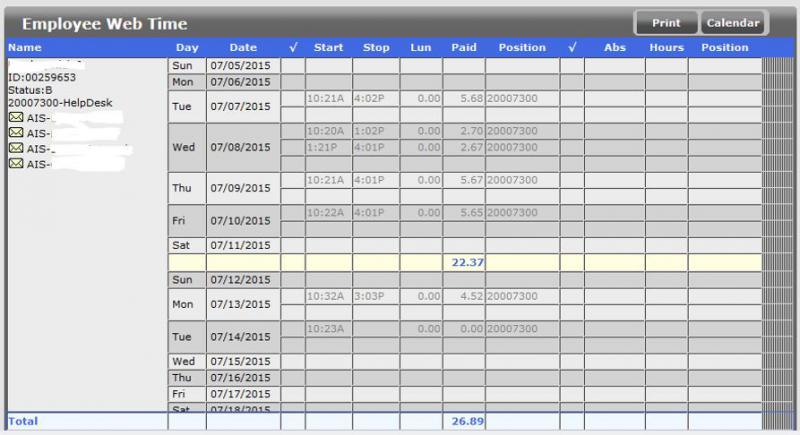 Additional Student Resources
Links to ASNMU Dozing Discounts for hotels, Cat Career Tracks for job training resources and job opportunities, and the Wildcat Express/Dining Services page for adding CatCa$h and Dining Dollars. 
Faculty Services Tab
The Faculty Serivces tab, exclusive to faculty and teaching assistants, contains faculty-related services sub-divided into the following sections.
Web for Faculty & Advisors
Academic Feedback
Qualtrics 
Signals - Faculty View
Faculty Resources
Web for Faculty & Advisors
Main Menu: Contains all the information below
Class Rosters: View your class roster/student list
My Schedule: View the details and schedule of the classes you are teaching
Course Search: Search NMU Courses
Grades: View class final grades by semester
Advisee List: View the list of your student Advisees, holds, emails, and other information
Student / Advisee Information: View detailed information about students and advisees
Academic Feedback
View available academic feedback by course or advisee.
Qualtrics
View Qualtrics survay program for data analysis. Available to all faculty and staff at NMU. 
Signals-Faculty View
View your student's Signals course performance indicators, based on Educat Gradebooks.
Faculty Resources
Incldes links to requesting books, reserving rooms, techinical equipment, library services, Educat courses, advising services, grants and funding, Academic Senate, the American Association of University Professors,  Mental Health Resources, and other valuable faculty information. 
Employee Services Tab
The Employee Services tab includes useful resources for NMU employees sub-divided into the sections below.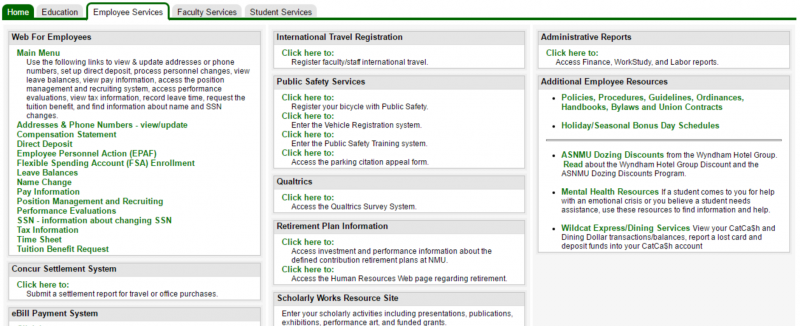 Web for Employees
Concur Settlement System
eBill Payment System
International Travel Regestration
Public Safety Services
Qualtrics
Retirement Plan Information
Scholarly Works Resource Site
UltraTime
Administrative Reports
Additional Employee Resources
 
Admitted to NMU Tab
The Admitted to NMU tab includes resources for students admitted to NMU for easy access to many enrollment step processes sub-divided into the sections below. 
 
Steps to Enrollment
Orientation: Learn about orientation activities and register for orientation
Housing: Learn about housing requirements and options and apply for housing
First Year Experience Program: Learn about the FYE program for incoming freshmen
Documents: Check documents you may need to provide
Course Placement: Learn about course placement and placement tests prior to orientation
Financial Aid
View financial aid tools, estimate fafsa rewards, and learn about financial aid opportunities. 
Stay Connected
Contact your counselor, sign up for Wildcat Wire email, and view the Parent Partnership Newsletter.
Opportunities
Links to Disability Services, scholarship information, Freshman Fellows, Honors Program, on-campus employment, study abroad, Superior Edge Program, and transfer credit opportunities.